Omaha, Neb. – Construction manufacturer and consultant Supportworks, Inc., has again been named to the annual Baird Holm "Best Places to Work in Omaha" list. This is the fourth year in a row the company has received this accolade in the highly competitive category of medium-sized companies with 25-200 employees.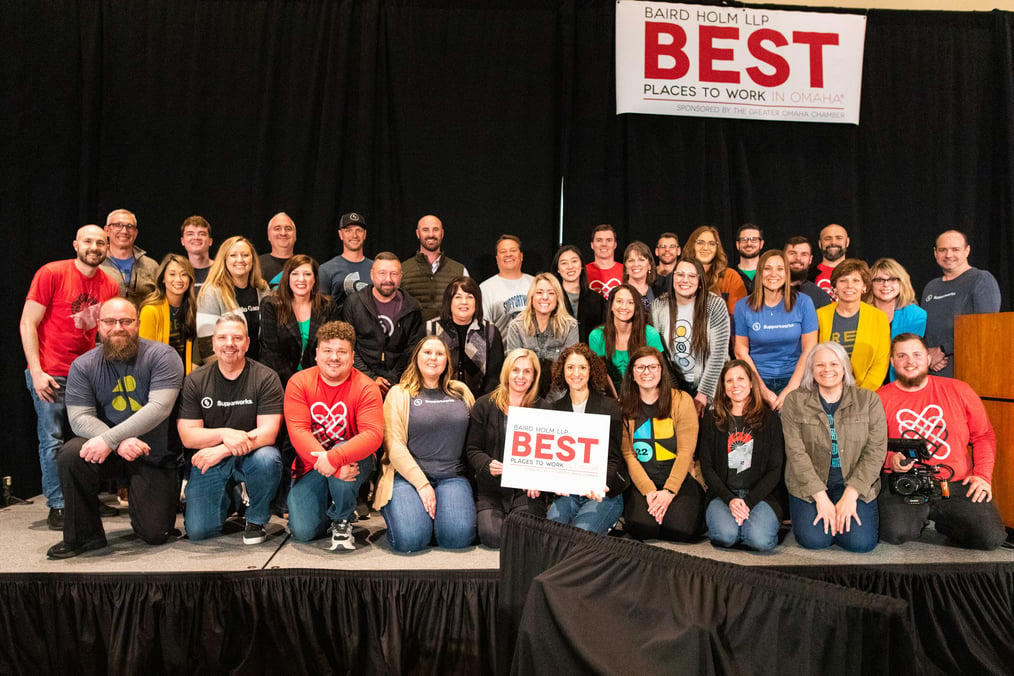 Supportworks president Amanda Harrington was appreciative of the honor. "It's great to be recognized for valuing our employees. I know a lot of companies say that, but we really put in the work, day in and day out, to make sure that our people find their jobs truly fulfilling," she says, adding, "From day one, we set out to redefine our industry, and we believed then, as we do now, that you can't do that without redefining the workplace ."

Supportworks employees were told the news in a very Supportworks way: with an appearance of their beloved "Treat Train" — a themed food and beverage cart whose arrival is always accompanied by train whistles and much hooting and hollering. The Treat Train is just one in a long list of perks that are unique to the company and contribute to its receiving glowing reviews from employees year after year.
To ensure employees' voices are being heard, the company conducts a culture audit from time to time. One recent such audit yielded an avalanche of answers to the question, "What makes Supportworks a great place to work," including one that read, "There's a high level of transparency and engagement from the top down. You don't see that often, and that trust helps build great buy-in."

Supportworks' culture of trust is a common thread running through these audit responses. It's also a likely reason why the company scored highest in the responses to the statements, "The people I work with treat each other with respect" and "I understand how my job helps the organization achieve success" on the Best Places to Work questionnaire.

Harrington makes it clear that the work is not done. She says, "This is the fourth year in a row we've been named to the list, so nobody wants to break that streak. So, we're going to have to work harder than ever to try to make it next year and every year after that." She adds, "But we're not exactly known for backing down from a challenge."

Interested in joining one of Omaha's Best Places to Work? View job opportunities at Supportworks at careers.supportworks.com.
About Supportworks
Supportworks comprises a family of three distinct companies that share a single purpose: to redefine the contractor industry. Foundation Supportworks designs, manufactures and delivers a range of products to a worldwide network of foundation- and concrete-repair dealers across North America and beyond. Hello Garage is a leading national garage renovation franchise. SolutionView develops proprietary software designed to streamline and improve the contractor-homeowner experience. Headquartered in Omaha, Nebraska, Supportworks was founded in 2008 by Greg Thrasher, the owner of a successful home-services company that was looking to vertically integrate and become a supplier focused on redefining an entire industry. In addition to developing industry-leading solutions, the company provides tools, software and business coaching to more than 150 dealers and franchisees across North America. The company is also proud to be Certified Evergreen by the Tugboat Institute, an Idaho-based entrepreneurial think tank dedicated to supporting companies they believe have what it takes to grow and thrive for 100 years or more. If you're a business looking to partner with one of Omaha's Best Places to Work, visit supportworks.com/partner.html.